Pyjama Pants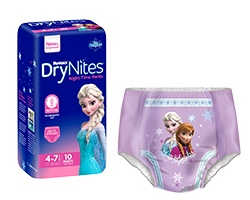 All children have the right to dignity and children with cognitive and other disabilities are no different. Continence management is an important issue for both these children and carers alike. Incontinence, whether neurogenic or not, is upsetting for children and their carers. DryNites® Pyjama Pants provide customised, discreet protection for girls and boys.
Soft cloth-like cover with customised designs for girls and boys
Soft stretchy sides to fit like underwear
Customised protection for girls or boys
Leak guards for added protection against leaks
DryNites® Pyjama Pants come in three sizes for both boys and girls
---
Packs/Case: 3
Other Specifications: -
Available in selected Supermarkets, Pharmacies and Distributors.
---
Not the product you were after?

Back to Children