Stretch Pants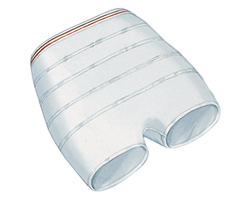 Worn with Depend Anatomic Pads to hold pad in place. Breathable and latex-free. Washable and re-usable up to 30 times.
Features a full length wetness indicator to enable a more informed change time decision
White soft cloth like outer cover provides outstanding comfort, helps optimize skin health through air circulation at the sides and is more discreet
Improved padding formation with embossed pattern and long side leakage guards ensure absorbency, comfort and reliability
Unique dry lock core reduces odour and keeps the wearer dry
---
Packs/Case: -
Other Specifications: Fits Waist: 65-96cm
Available in selected Supermarkets, Pharmacies and Distributors.
---
Not the product you were after?

Back to Depend Anatomics