Guards for Men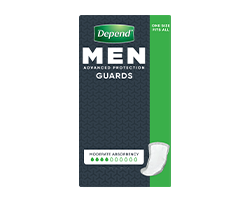 Depend® Guards for Men offers moderate absorbency and features cup-shaped protection that is designed to fit the male anatomy.
Two adhesive strips hold the guard securely in place
Individually wrapped for convenience and disposability
---
Packs/Case: 6
Other Specifications: -
Available in selected Supermarkets, Pharmacies and Distributors.
---
Not the product you were after?

Back to Depend for Men Range