Undergarments with Buttons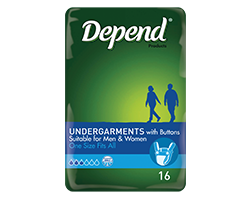 For moderate to heavy protection during the day or night. Easy to apply for users and carers. Unisex design.
Easy-to-use, reusable button elastics fit various sizes
Soft side shields help stop and contain leaks.
Able to be fitted while standing, sitting or lying down
Top layer quickly draws moisture away from skin into absorbent core, with Dry-Touch granules, locks liquid away to prevent leakage and odour
Unisex design
---
Packs/Case: 4
Other Specifications: Fits Hip: up to 165cm
Available in selected Supermarkets, Pharmacies and Distributors.
---
Not the product you were after?

Back to Other Depend Products